FAQ
General FAQ
Course FAQ
General FAQ
A Stay Interview is a structured discussion a leader conducts with each individual employee to learn the specific actions she must take to strengthen that employee's engagement and retention with the organization.
Stay Interviews are effective because they are conducted before employees leave, so leaders can learn precisely how to keep them. And improve their engagement.
Imagine your manager saying to you:
"I want to have a meeting with you so I can learn everything I can do to make working here better for you. How's your schedule the next few days?"
Employees are accustomed to two types of meetings with their managers: Did you do your work? And here's more work. Stay Interviews are meetings managers have with employees about employees…to learn their unique needs no survey will uncover.
Why Should Leaders Conduct Stay Interviews?
To build trust with each member of their teams. Research tells us what until now has been a big secret: The number one reason employees stay or leave…or engage or disengage…is how much they trust their boss.
No company-wide meeting, employee-of-the-year award, or any event with food helps to build leader-employee trust. Yet these are the "solutions" we've used to increase retention and engagement and they have failed because they exclude any opportunity for leaders to build trust.
Stay Interviews, though, provide this opportunity because they give leaders the opportunity to show they care…by asking, listening, taking notes, probing to learn more, and solving each employee's own issues that can be solved.
How Does Building Trust Reduce Employee Turnover?
Employees who trust their leaders stay longer, so Stay Interviews reduce all turnover as well as first-year turnover. Leaders learn the most important reasons employees stay and would leave, and then build trust by addressing those reasons.
Stay Interviews build engagement, too. Gallup tells us only one-third of all employees are engaged in their work, so imagine the other two-thirds wishing something was different. Stay Interviews smoke out those "somethings" by bringing them into the discussion and then providing pathways to fix them.
What If Leaders Are Too Busy to Conduct Stay Interviews?
Because Stay Interviews are built to build trust, only first-line leaders can conduct them. Delegating them won't work, whether to HR or another leader. So those leaders who are too busy must decide if investing time for Stay Interviews is worth improving how long their team stays and how hard they work. One way to think about Stay Interviews' time investment is comparing it to the time required to interview and hire replacements for those who leave. Stay Interviews are by far a better investment of each leader's time.
Why Is Employee Retention So Important?
Anyone who has conducted a comprehensive cost analysis of employee turnover knows it can be extraordinarily expensive—especially when it comes to losing top performers or key players.
Recruiting, hiring, administrative costs, lost opportunities, damaged morale—these are the costs of getting a new employee to the same level of productivity as the person he or she replaced. There's also the risk of the former employee going to work for a competitor and taking clients along with them…and employees.
Retaining your most productive employees is one of the most effective ways to improve your company's bottom line—and Stay Interviews are the way to do it.
Why Are Stay Interviews More Effective Than Employee Surveys?
Surveys are the steady precursor to one-size-fits-all programs. Nearly every company follows this path:
1.      Conduct an annual employee survey
2.      Build company-wide programs like career week, better job posting, more company meetings
3.      Re-survey a year later
4.      Get same results
Recall that only one-third of all employees are engaged in their work, and this pattern has been steady for nearly 20 years. All while companies are spending an estimated $1.5 billion each year to improve engagement. The reason why engagement doesn't change is companies never learn what individual employees want and need, and the survey process eliminates the opportunity for leaders to solve those needs while also building trust.
Can Exit Surveys Replace Stay Interviews?
No, for the same reasons. Exit surveys lead to company-wide reports and more company-wide programs. Besides, few employees tell the truth because they don't want to burn bridges. Stay Interviews are proactive, they help keep the employees you have. Exit interviews just happen too late.
When Did Stay Interviews Start?
Dick Finnegan, our founder, made Stay Interviews popular by writing The Power of Stay Interviews, which is the top-selling SHRM-published book in history. The American Management Association then asked Dick to write a handbook for managers and he wrote The Stay Interview.
 What Questions Should Leaders Ask?
Our research tells us there are five questions…and only five questions…that will stimulate each employee to say the information you need:
1.      When you travel to work each day, what things do you look forward to?
2.      What are you learning here?
3.      Why do you stay here?
4.      When was the last time you thought about leaving our team? What prompted it?
5.      What can I do to make your experience at work better for you?
Leaders then must probe deeply to learn more, with probes like Give me an example, When did that happen last? How important is this to you on a scale of 1 to 10? Deep probing leads to real solutions.
Finnegan's Arrowsm is a system developed by C-Suite Analytics and the Finnegan Institute that lays out a clear path to improving employee retention and engagement, with the Stay Interview at its center: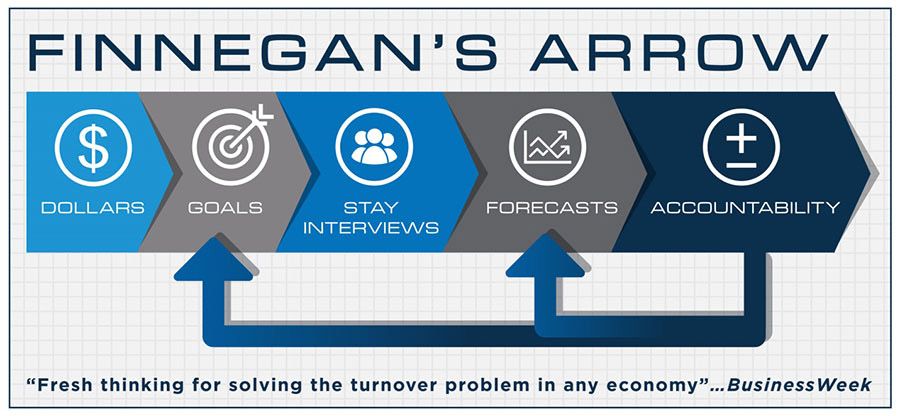 Dollars represents the importance of converting turnover's and engagement's costs into the language of CEOs, so they and other c-suite members then take strong actions for improvement.
Goals follows because once executives digest these huge costs they will demand solutions.
Stay Interviews then provide each leader with their best opportunity to make and exceed their engagement and retention goals. Solutions are based on individual employee's needs versus employee programs, and leaders fulfill their stay plan commitments because they are motivated to achieve their goals.
Forecasts then become the lockdown tool. Leaders are asked after their first Stay Interview to predict how long each employee will stay, and also whether that leader can drive each employee to score in the highest box or category on the next engagement survey. Forecasts can then be changed at any time based on new information.
Accountability is then the keystone action that is most required for success. Note the bottom arrow connects back to goals and forecasts, as executives now hold leaders on all levels accountable for achieving their engagement and retention goals while also making accurate forecasts.
Finnegan's Arrowsm is a business-driven employee engagement and retention solution, replicating the way organizations do sales and service—by setting goals and holding leaders accountable.
An influential speaker, author, consultant, and the authority on stay interviews, Dick Finnegan is the mastermind behind Finnegan Institute's comprehensive Stay Interview certification programs.
Finnegan sought out specific academic training to "know more about cutting turnover than anyone else on earth" He then spent years perfecting strategies and tactics designed to help companies improve employee engagement and retention.
Praised by BusinessWeek for offering "fresh thinking for solving the turnover problem in any economy," Finnegan is the thought leader in the world of the employee retention and engagement, helping companies large and small boost their bottom lines. 
Course FAQ
What Certifications Does the Finnegan Institute Offer?
Finnegan Institute offers Stay Interview Expert (SIE) Certifications at three different levels: Gold, Silver, and Bronze.
All three certification programs include 16 e-learning modules, key forms, and certification credits. The comprehensive e-learning modules cover a range of key topics and include videos, application exercises, and all the tools you'll need to effectively implement stay interviews.
Our Gold and Silver certification programs also include training and coaching sessions (via phone) to supplement online learning, and our Gold certification program includes 15 registrations for our Stay Interview Manager online training course, specifically designed to help managers effectively conduct Stay interviews.
Our programs help you improve employee engagement and employee retention and each program comes with a certificate of completion for your resume and online profiles.
What Sets Finnegan Institute's Courses Apart?
Finnegan Institute helps you uncover what your employees truly value—critical information that helps guide you in providing your employees with what they need to stay and thrive at your company.
Finnegan goes beyond the Stay Interview alone—our approach helps you:
·         Assess how much—in actual dollars—employee disengagement and turnover are costing your company
·         Establish realistic employee retention goals
·         Master conducting effective stay interviews
·         Forecast employee retention
·         Hold first-line leaders accountable for initiating the changes needed to improve employee engagement and retention
How Will Finnegan's Courses Benefit My Business?
Losing employees—especially top performers—is exceptionally costly for businesses. If your company retains just one employee a year using our program it will have paid for itself many times over.  Our courses include all the tools you'll need to implement stay interviews, including:
ü  Stay Interview Prep Form and Communication Script for implementation
ü  Stay Interview Guide which includes the five heavily-researched Stay Interview questions, recommended probes, and framework for establishing a Stay Plan
ü  The Guide also includes opening and closing scripts for each Stay Interview
ü  Retention Forecast Form for each manager to indicate each employee's retention forecast and the top three reasons each employee stays and could leave
ü  Stay Interview Team Summary for a manager to complete and share with their leader the top reasons their teams stay and could leave
Implementing Stay Interviews effectively will cut your cost of turnover.  The improved employee engagement improves productivity and profitability too.
How Much Do Finnegan's Certification Courses Cost?
Finnegan's Stay Interview Expert (SIE) Certification programs range in price from $1,999 to $2,999—far less than what you'd pay to have an expert provide similar in-person training. Each of our certification programs include:
16 e-learning modules, accessible 24/7
Course enrollment for one participant for full course for a full year
Program resources, including essential forms and exercises
Certificate of completion for your resume and online profiles
Society for Human Resource Management (SHRM) and HR Certification Institute® (HRCI®) recertification credits
Our Bronze certification program includes all the benefits highlighted above.
Our Silver certification program includes all the benefits highlighted above, plus one (1) 30-minute call with one of our experts, who will introduce Stay Interviews to your executive team, plus (3) user group conference calls at 30/60/90 days to make sure your team is on track.
Our Gold certification program includes all the benefits highlighted above, plus the additional benefits included in the Silver package, plus 15 Registrations for our Stay Interview Manager online training course, designed to help your managers conduct effective Stay Interview that build trust and improve employee engagement and retention.
How Are the Course Materials Delivered?
Finnegan's e-learning course modules, forms, and certificates are delivered via our online learning platform, which is accessible 24/7 during the 12-month subscription period. Our courses are mobile-device friendly and be accessed anywhere, anytime, as long as you have an internet connection.
How Long Will I Have Access to the Training Materials
Each certification course includes access for one person for a full year. Participants can log in to our e-learning platform anytime, 24/7, during their 12-month subscription period to learn and brush up on their newly acquired knowledge and skills.
Does Finnegan Institute Offer a Refund Policy?
Finnegan Institute offers a 100% satisfaction and money-back guarantee. If for any reason, you are unsatisfied with our programs we will refund your payment in full within 90 days of course enrollment. Refunds will be processed to the original credit card you used for payment within 5 business days of the date we receive your request. The actual posting date of the credit to your account is subject to your card issuer's policies.