Stay Interview Manager Training
The Stay Interview Manager (SIM) program brings the power of Stay Interviews to leaders at all levels to improve their retention and raise their employee engagement scores.  A Stay Interview is a structured discussion a leader conducts with each individual employee to learn the specific actions she must take to strengthen that employee's engagement and retention with the organization.  This program is designed to give you all the tools and information needed to implement Stay Interviews with your employees.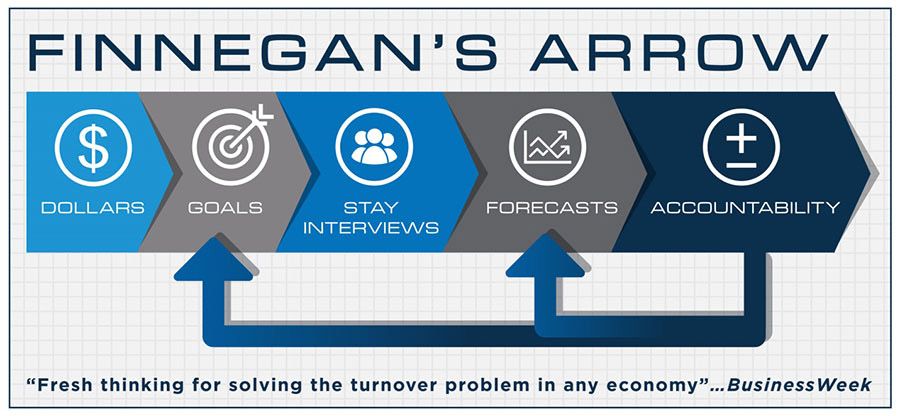 Trusted Resource
Dick Finnegan is a powerful speaker, consultant and THE authority on Stay Interviews. As author of The Power of Stay Interviews for Engagement and Retention, the top-selling SHRM-published book of all time, Dick has spent years perfecting methods and programs for engagement and retention. BusinessWeek said it best when they said, "Finnegan offers fresh thinking for solving the turnover problem in any economy".
What People Are Saying
"The Stay Interview Manager program hits home that trust is the key to retention and how powerful it is to the supervisor relationship."
– K. HARDY, SPHR, HUMAN RESOURCES MANAGER, WAYNE FARMS LLC
Ready to Complete Your Stay Interview Manager Training?
We have three levels of the Stay Interview Manager program available.  Each offers an online learning program with 12 modules, resources and certification credits.  Two of our options include training and coaching sessions to supplement your online learning and answer questions specific to your company.  Jump start your employee engagement and retention right away!
FREE TRIAL
Course enrollment for one participant for Module 1

24/7 availability through our e-learning platform to fit your schedule

One full module with videos, resources and exercise handouts included

A check for understanding at the end to assure learning goals are achieved
Bronze
Access to All 13 Courses for 1-Year

Course enrollment for one participant for full SIM course

24/7 availability through our e-learning platform to fit your schedule

Program resources including forms and exercises

Checks for understanding throughout the program to assure learning goals are achieved

Certificate of completion and badge for resume and profiles
Silver
Everything from the Bronze Package:

Access to All 13 Courses for 1-Year

Course enrollment for one participant for full SIM course

24/7 availability through our e-learning platform to fit your schedule

Program resources including forms and exercises

Checks for understanding throughout the program to assure learning goals are achieved

Certificate of completion and badge for resume and profiles

One 30-minute call to introduce Stay Interviews to your leader and executive team
Gold
MOST POPULAR!
The most popular, comprehensive and robust program we offer
Everything from the Silver Package:

Access to All 13 Courses for 1-Year

Course enrollment for one participant for full SIM course

24/7 availability through our e-learning platform to fit your schedule

Program resources including forms and exercises

Checks for understanding throughout the program to assure learning goals are achieved

Certificate of completion and badge for resume and profiles

One 30-minute call to introduce Stay Interviews to your leader and executive team

Three scheduled user group conference calls at 30/60/90 days