Stay Interview Expert Certification
Stay Interviews are proven to cut employee turnover AND improve employee engagement.  The Stay Interview Expert Certification (SIE) brings the "whys" and the "ways" of the absolute best employee engagement and retention processes to your organization, while providing you with a valuable professional skill set you will apply throughout your career.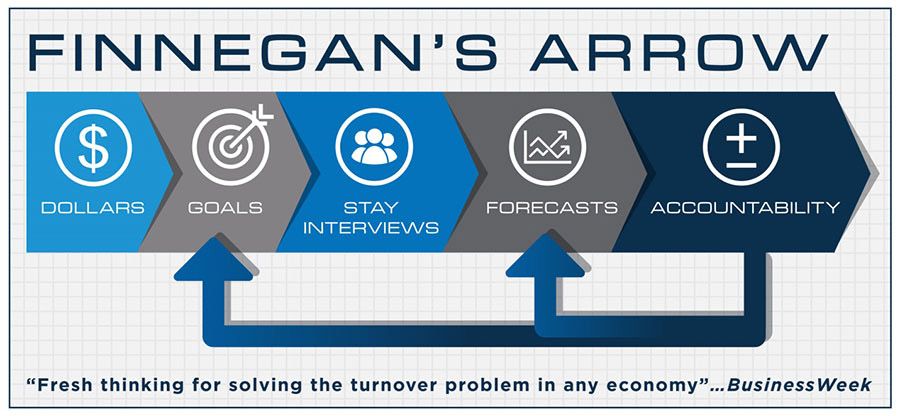 Trusted Resource
Dick Finnegan is a powerful speaker, consultant and THE authority on Stay Interviews. As author of The Power of Stay Interviews for Engagement and Retention, the top-selling SHRM-published book of all time, Dick has spent years perfecting methods and programs for engagement and retention. BusinessWeek said it best when they said, "Finnegan offers fresh thinking for solving the turnover problem in any economy".
The Certified Stay Interview Expert provides 16 on-line modules that contain videos, application exercises, and most importantly every tool you'll need for implementing Stay Interviews in your company including Stay Interview questions, Stay Interview probes, Stay Plan action forms, and a Retention Forecasting report.
What People Are Saying
"The Stay Interview Expert Certification program is innovative! A fresh way to look at employee retention and engagement."
– MARIAN MORLOCK, TALENT ACQUISITION & DEVELOPMENT, TECH DATA
Ready to Complete Your Stay Interview Expert Certification?
We offer three levels of the Stay Interview Expert Certification program. Each offers an online learning program with 16 modules, key forms, and certification credits. Two of our options add training and coaching sessions to supplement your online learning so you can customize SIE to address your company's unique needs. You may also add Stay Interview Manager Training programs so you can provide training to your managers in your Stay Interview implementation.
FREE TRIAL
Course enrollment for one participant for Module 1

24/7 availability through our e-learning platform to fit your schedule

One full module with videos, resources and exercise handouts included

A check for understanding at the end to assure learning goals are achieved
Bronze
Access to All 17 Courses for 1-Year

Course enrollment for one participant for full SIE course

24/7 availability through our e-learning platform to fit your schedule

Program resources including forms and exercises

Checks for understanding throughout the program to assure learning goals are achieved

SHRM and HRCI recertification credits

Certificate of completion and badge for resume and profiles
Silver
Everything from the Bronze Package:

Access to All 17 Courses for 1-Year

Course enrollment for one participant for full SIE course

24/7 availability through our e-learning platform to fit your schedule

Program resources including forms and exercises

Checks for understanding throughout the program to assure learning goals are achieved

SHRM and HRCI recertification credits

Certificate of completion and badge for resume and profiles

One 30-minute call to introduce Stay Interviews to your executive team

Three scheduled user group conference calls at 30/60/90 days
Gold
MOST POPULAR!
The most popular, comprehensive and robust program we offer
Everything from the Silver Package:

Access to All 17 Courses for 1-Year

Course enrollment for one participant for full SIE course

24/7 availability through our e-learning platform to fit your schedule

Program resources including forms and exercises

Checks for understanding throughout the program to assure learning goals are achieved

SHRM and HRCI recertification credits

Certificate of completion and badge for resume and profiles

One 30-minute call to introduce Stay Interviews to your executive team

Three scheduled user group conference calls at 30/60/90 days

5 Registrations for Stay Interview Manager online training course so your managers can learn to conduct Stay Interviews effectively