Calculating the Cost of Turnover
Turnover is usually reported in percentages whereby the language of CEOs is dollars. 'Speaking CEO' leads to top-level support for the right retention solutions. You will learn to convert turnover to dollars and utilize an online cost of turnover calculator to determine the cost of turnover for positions in your organization.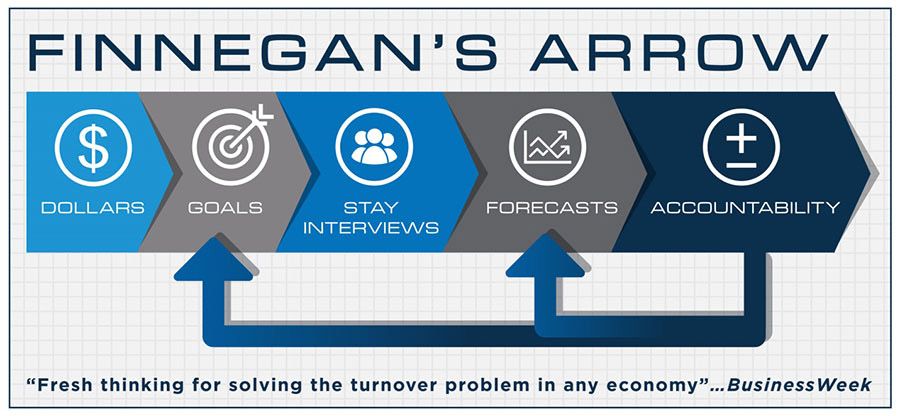 Trusted Resource
Dick Finnegan is a powerful speaker, consultant and THE authority on Stay Interviews. He is the creator of the featured cost-of-turnover calculator. As author of The Power of Stay Interviews for Engagement and Retention, the top-selling SHRM-published book of all time, Dick has spent years perfecting methods and programs for engagement and retention. BusinessWeek said it best when they said, "Finnegan offers fresh thinking for solving the turnover problem in any economy".
What People Are Saying
"If you reduce your turnover by one person per year, you've more than paid for this program"
-LALE GERGER, GPHR, SHRM-SCP, HUMAN RESOURCES DIRECTOR, HEALTHSOUTH REHABILITATION HOSPITAL OF OCALA
Calculating
the Cost of Turnover
$229
$
179
Course enrollment for one participant
24/7 availability through our e-learning platform to fit your schedule
Access to course for one-year
Resources including a tool to identify the elements of the cost of turnover for your organization
An online Cost of Turnover calculator for unlimited use with a how-to-use video
Checks for understanding to assure learning goals are achieved
SHRM and HRCI recertification credit

ENROLL NOW
SALE